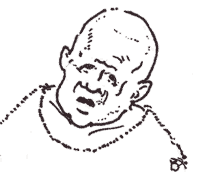 They take him down and carry him out of the chamber, past you.
You recognize that the man under torture is the mayor. You wonder that if they do such to him, a rich and powerful man, what would they do to you?
You now stand before the magistrate.
The magistrate says to you, "This is the strappado. Such awaits you if you will not confess. You have been given time and opportunity to reconsider and abandon your lies. According to the provided and proven evidence you are guilty. Will you confess to being a witch?"
You say*
*"I deny it, I am not a witch."