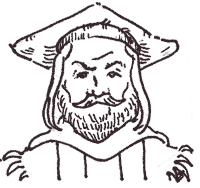 The man in the middle says, "Welcome to the questioning chamber. I am Professor Doctor Carolinus, the magistrate appointed by his grace Prince Clement August to investigate the scourge of witchcraft in his diocese. The man on my right is my secretary who will keep a protocol of all that occurs in this room. Everything here is done according to the good and right law of both this realm and the Empire. The man on my left is the torturer. You have been accused on good evidence of the crime of witchcraft. If you answer my questions, we do not need to resort to torture. If, however, you resist the truth through the infernal machinations of the Lord of Hell, then we must compel you to answer.
Will you confess to being a witch?"
You say*
*"I deny it, I am not a witch."